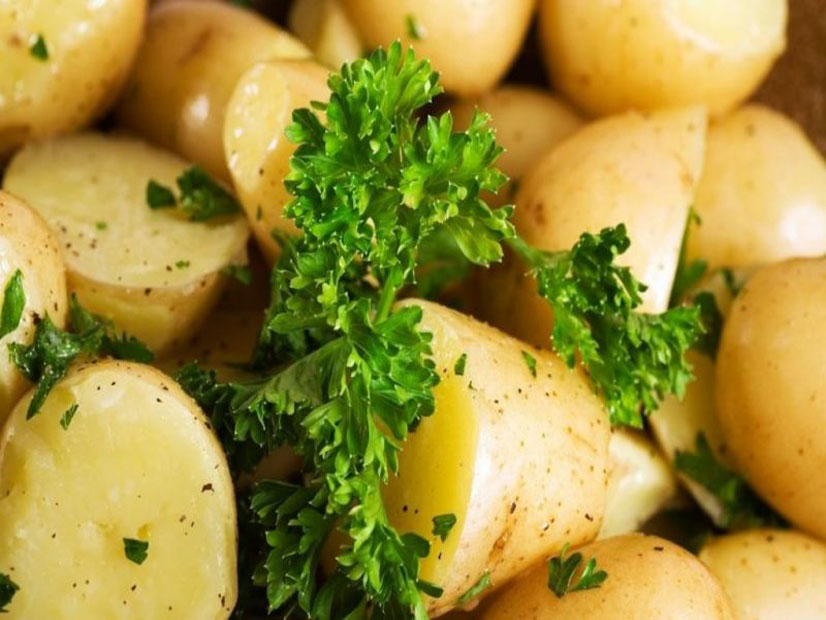 Parsley Buttered Potatoes
Recipe by Georgia Department Of Education
Servings
50 Parsley Buttered Potatoes
Total time
1 hour and 5 minutes
Freshly steamed potatoes are tossed with butter, garlic and fresh parsley for a savory
vegetable side dish.
Ingredients
Ingredients list includes measure by weight or volume. Choose one measure, either weight or volume, for the ingredient. Weight is listed first in bold.

14.3 pounds Potatoes,

Yukon (14 pounds, 5 ounces)

6 ounces Butter, unsalted, melted

1 tablespoon Salt, kosher

2 teaspoons Black pepper, ground

22 teaspoons Garlic, granulated

1¼ ounce Parsley, fresh, chopped
Directions
To Prepare Rice One Day in Advance

1.TIf potatoes are whole with skin, fill vegetable sink with potatoes and water. Scrub skin to release excess dirt. Quarter potatoes that are whole.

2.Place potatoes in a perforated pan (uncovered). Steam for 15 to 20 minutes, until potatoes are tender. The time will vary depending on the size of the potato.

3.Combine melted butter, salt, pepper, garlic and chopped parsley.

4.When the potatoes are ready, toss in a large bowl, while adding the melted butter mixture. Toss well.

5. Serve with a 4-ounce spoodle

RECIPE NOTES

Crediting: ½ cup starchy vegetable

Serving Suggestion: For extra flavor, add Ranch Seasoning Mix

NUTRITION FACTS PER SERVING

Calories: 120 kcal I Fat: 2.5 g I Saturated fat: 1.6 g I Cholesterol: 7 mg I Sodium: 110 mg ICarbohydrates: 17 g I Fiber: 1.9 g I Protein: 2.7 g I Calcium: 20 % I Iron: 1 %
Recipe Options
This recipe has not been tested or standardized by Healthy School Recipes. The outcome, allergen information, and nutrient data may vary depending on the specific ingredients and equipment used in your location.