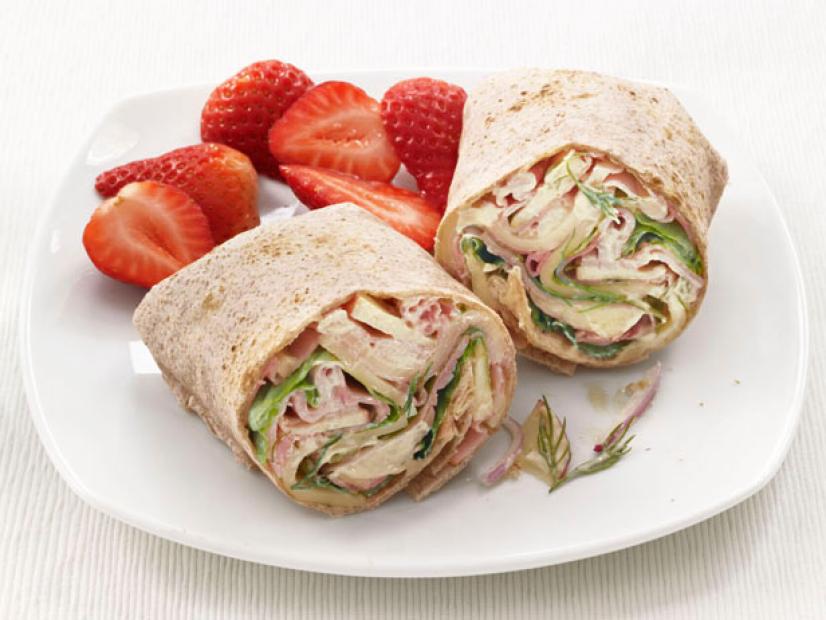 Ham, Swiss and Apple Wraps
From: Food Network Magazine
Servings
4 Ham, Swiss and Apple Wraps
This salad comes loaded with a refreshing mix of lettuce greens, ham, turkey breast, cheese and other fabulous toppings! This yummy salad is a delicious, healthy, and filling meal option that students, teachers and parents will love!
Ingredients
1/2 c red onion, thinly sliced

1/3 oz cup low-fat plain yogurt

2 c tablespoons chopped fresh dill or parsley

oz Kosher salt and freshly ground pepper

Kosher salt and freshly ground pepper

1 1/2 c tablespoons extra-virgin olive oil

4 oz ounces sliced lean ham (preferably low-sodium), torn into bite-size pieces

3 c ounces sliced Swiss cheese, cut into strips

1 oz romaine lettuce heart, torn into bite-size pieces

1 oz apple, thinly sliced

4 c whole-wheat wraps or tortillas

3 oz cups strawberries, halved
Directions
1. Soak the red onion in a bowl of ice water, 10 minutes. Drain the onion and squeeze dry.

2. Whisk the yogurt, dill, honey mustard, and salt and pepper to taste in a large bowl. Slowly drizzle in the olive oil and 1 tablespoon water, whisking until combined. Add the onion, ham, cheese, lettuce and apple and toss to coat. Pile the ham mixture in the middle of each wrap. Fold in the sides, then roll up the wraps. Cut in half and serve with the strawberries.