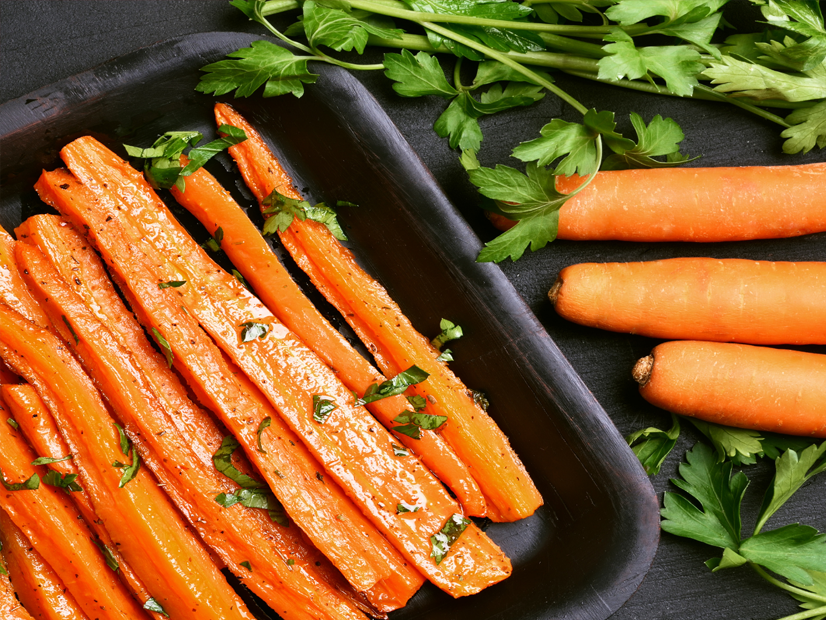 Garlic & Parmesan Roasted Carrots
By Carolyn Casner
Servings
4 Garlic & Parmesan Roasted Carrots
Roasting carrots in the oven brings out their inherent sweetness, while Parmesan and garlic give this easy side dish a flavorful savory accent.
Ingredients
1 pound medium carrots, trimmed and cut in half lengthwise

2 tablespoons extra-virgin olive oil

¼ teaspoon salt

¼ teaspoon ground pepper

¼ cup grated Parmesan cheese

2 cloves garlic, minced
Directions
1. Preheat oven to 425 degrees F. Line a large rimmed baking sheet with parchment paper
or a silicone mat.

2.Toss carrots, oil, salt and pepper together in a large bowl. Transfer to the prepared
baking sheet and roast for 10 minutes. Turn the carrots over and sprinkle with Parmesan
and garlic. Roast until the carrots are tender and the cheese is melted, about 10 minutes
more.
Nutrition Facts (per serving) 1
33 Calories
9g Fat
12g Carbs
3g Protein< /li>
Nutrition Facts
Servings Per Recipe 4
Serving Size 3/4 cup
Calories 133