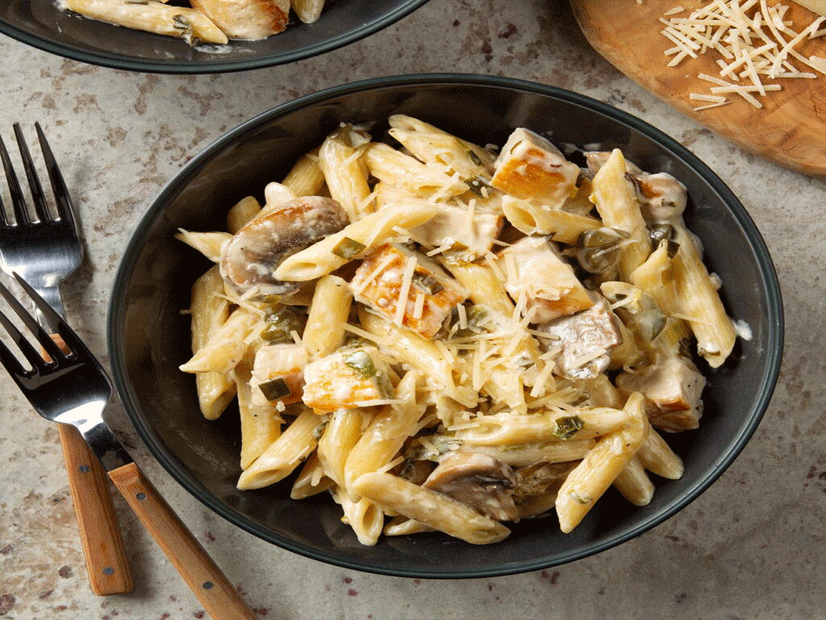 Creamy Chicken and Pasta
From: Test Kitchen Approved
Servings
5 Creamy Chicken and Pasta
Rich, flavorful and laced with wine, this creamy chicken pasta is a family favorite. No one ever guesses it's so quick and easy!
Ingredients
2 cups uncooked penne pasta

2 cups sliced fresh mushrooms

1 cup sliced green onions

2 tablespoons butter

1/2 cup white wine or chicken broth

1 teaspoon minced garlic

1/3 cup water

1 cup heavy whipping cream

2 cups cubed cooked chicken

2 tablespoons capers, drained

1/4 teaspoon salt

1/8 teaspoon pepper

Shredded Parmesan cheese
Directions
1. PCook pasta according to package directions. Meanwhile, in a large skillet, saute mushrooms and onions in butter for 4-5 minutes or until tender. Add wine or broth and garlic. Bring to a boil; cook until liquid is reduced by half, about 5 minutes.

2. ombine flour and water until smooth; gradually add to mushroom mixture. Bring to a boil. Reduce heat; cook and stir for 2 minutes or until thickened. Stir in cream. Bring to a boil. Reduce heat; simmer, uncovered, for 4-5 minutes or until heated through.

3. Drain pasta. Add the pasta, chicken, capers, salt and pepper to cream sauce. Cook for 3-4 minutes or until heated through. Sprinkle with Parmesan cheese.
Nutrition Facts
1 cup: 431 calories, 25g fat (14g saturated fat), 121mg cholesterol, 420mg sodium, 27g carbohydrate (3g sugars, 2g fiber), 23g protein.