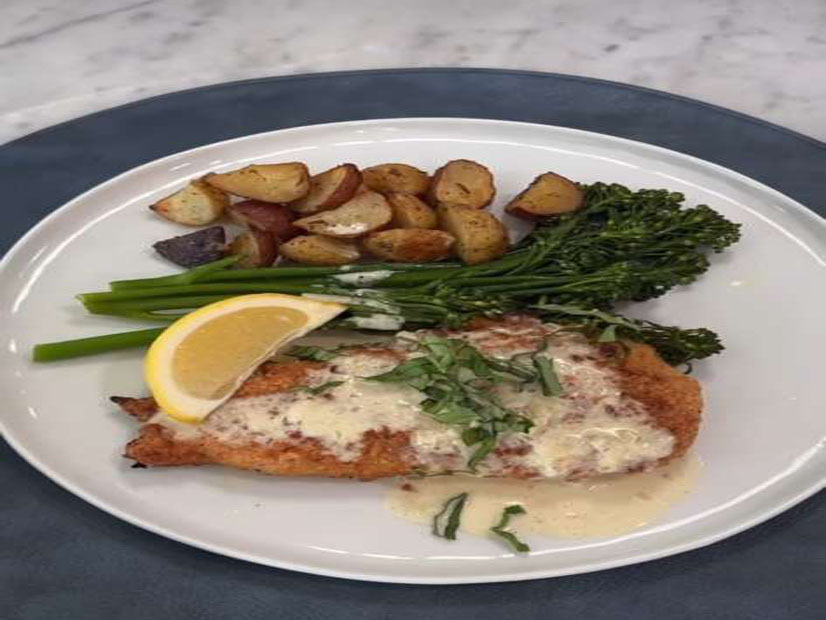 Baked Chicken with Lemon Garlic Sauce
Recipe by @emmanuel.duverneau on Instagram
Servings
1 Baked Chicken with Lemon Garlic Sauce
Total time
1 hour 5 minutes
Tired of your regular fried chicken? Try this cool recipe from Emmanuel Duverneau which will definitely make you fall in love with chicken all over again!
Ingredients
Chicken breast

2 Beaten eggs, seasoned with salt and pepper

1 1/2 Cup finely crushed Ritz crackers

1 Tsp salt

2 Tsp onion powder

2 Tsp garlic powder

1 Tsp pepper

Butter

Basil, to garnish

Lemon garlic sauce

1 Medium shallot shopped

1 Cup Chicken broth

2 Tbsp unsalted Butter

1/3 Cup Heavy cream

2 Tbsp Lemon juice

4 Garlic cloves minced

1/4 Cup Parmesan cheese

Potato

1 Pound mini potatoes, cut in halves

1 Tsp rosemary

1 Tsp thyme

2 Tsp garlic powde

2-3 Tsp slat

1 1/2 Tsp pepper

3 Tbsp olive oil
Instructions:
1. Cover potatoes with olive oil and season.

2. Place on a baking sheet at 375° for 1 hour, flipping potatoes half way.

3. Slice chicken breasts in half and flatten with a rolling pin.

4. Crush Ritz crackers into small pieces and pour into a bowl. Add garlic powder, onion powder, salt, and pepper.

5. Beat eggs in a small bowl and season with salt and pepper.

6. Dip the chicken in the egg mixture, coating both sides. Then dip the chicken in the cracker mixture.

7. Coat both sides and press the cracker crumbs into the chicken.

8. On medium heat, add 2 Tbsp butter, garlic, and shallots to a pan and cook for about 2-3 minutes (be careful not to burn).

9.Add chicken stock and simmer for about 3 minutes. Add lemon, heavy cream, and Parmesan cheese.

10. Season with salt and pepper to taste and keep on low simmer until slightly thickened and you are ready to use

11. Line a large baking sheet with foil or parchment paper.

12. Place the chicken down and add small slices of butter all around each piece of chicken, about 3 slices per piece of chicken.

3. Bake at 375° for 45 minutes. Until internal temperature reaches 165°.

14. If you feel like the breadcrumbs are browning too quickly you can cover the top of the baking sheet with foil.

15. Serve with potatoes and steamed broccolini or your favorite vegetables.

16. Drizzle sauce on top of the chicken, garnish with fresh basil and enjoy!