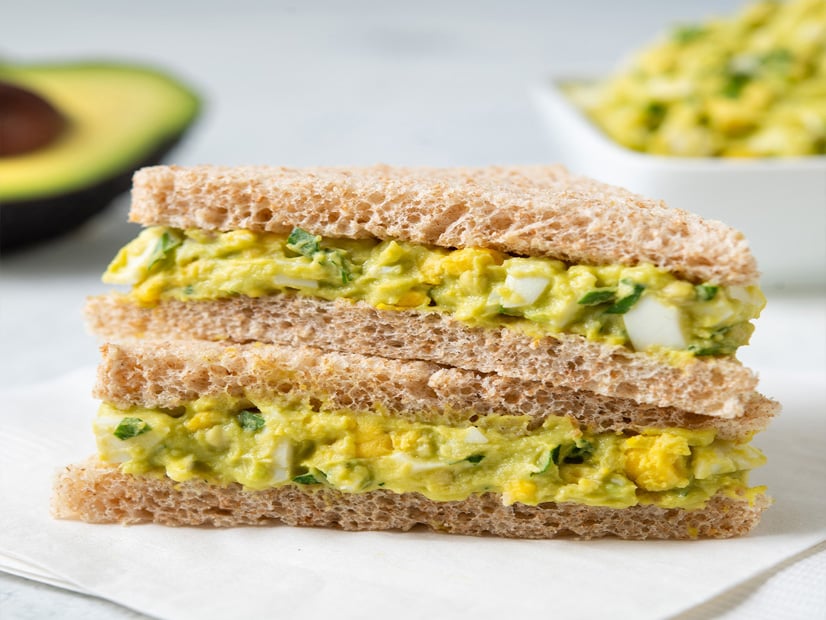 Avocado Egg Salad Finger Sandwiches
Servings
6 Avocado Egg Salad Finger Sandwiches
Today I'm kicking off a brand new weekly feature, Tea for Tuesdays, with classic deviled egg salad finger sandwiches!
Ingredients
8 large eggs

2 ripe, fresh avocados, pitted and peeled

1 teaspoon Dijon mustard

1 tablespoon lemon juice

1/4 teaspoon salt

1 tablespoon chopped parsley (optional)

For assembly: 2 slices of whole wheat bread per serving
Directions
1. Place eggs in a saucepan and cover with water. Bring to a boil, remove from heat, and let eggs stand in hot water for 10 minutes.

2. Remove eggs from hot water, cool under cold running water, and peel. Chop eggs and set aside.

3. In a large bowl, mash the avocados with a fork or potato masher until mostly smooth. Stir in the eggs, mustard, parsley (if using), lemon juice and salt.

4. Spread between whole wheat bread, then slice as desired into bite-sized sandwiches.

5. Prepared avocado egg salad can be stored sealed in the refrigerator for 3-5 days.