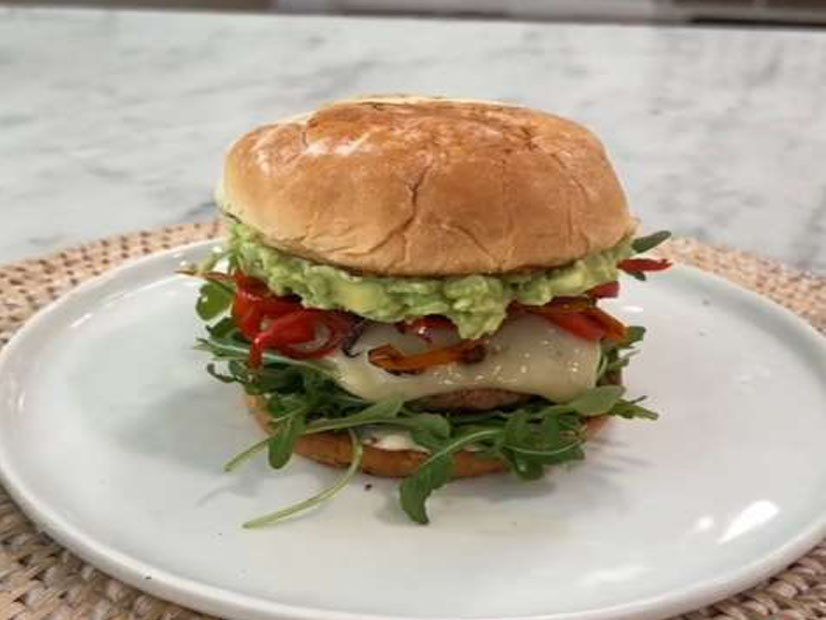 Turkey Burger with Avocado Oil and Bell Peppers
Recipe by @emmanuel.duverneau on Instagram
Servings
1 Turkey Burger with Avocado Oil and Bell Peppers
Total time
1 hour 5 minutes
Mashing avocado into the turkey mixture helps prevent the meat from shrinking and drying out during cooking, which is why these stay awesomely juicy, even when they're cooked all the way through.
Ingredients
Aioli sauce

Arugula

Swiss cheese

Red and yellow pepper

1 pound 94% lean ground Turkey

1 Tsp Garlic powder

1 tsp Onion powder

1 Tsp Salt

1/2 tsp Pepper

1 1/2 Tbsp Worcestershire sauce

2 Tbsp ketchup

1/2 medium onion grated

Avocado oil
Instructions:
1. Finely slice the peppers.

2. In a bowl, mash avocados with salt, pepper, and lemon juice.

3. In a large bowl, grate the onion. Then had the hamburger meat along with garlic powder, onion powder, salt, pepper, Worcestershire sauce, and ketchup. Mix and create turkey patties.

4.Sauté peppers in a small pan with avocado oil, then set aside.

5. Add avocado oil to a pan and cook turkey patties over medium high heat, until internal temperature reaches 165° (about 5-6 minutes on each side).

6. Add the Swiss cheese before patties are done to allow cheese to melt.

7. Add aioli mayo to the bottom bun and top with arugula. Then place down the turkey patty and the peppers.

8. Smear the avocado mixture on the inside of the top bun and enjoy!