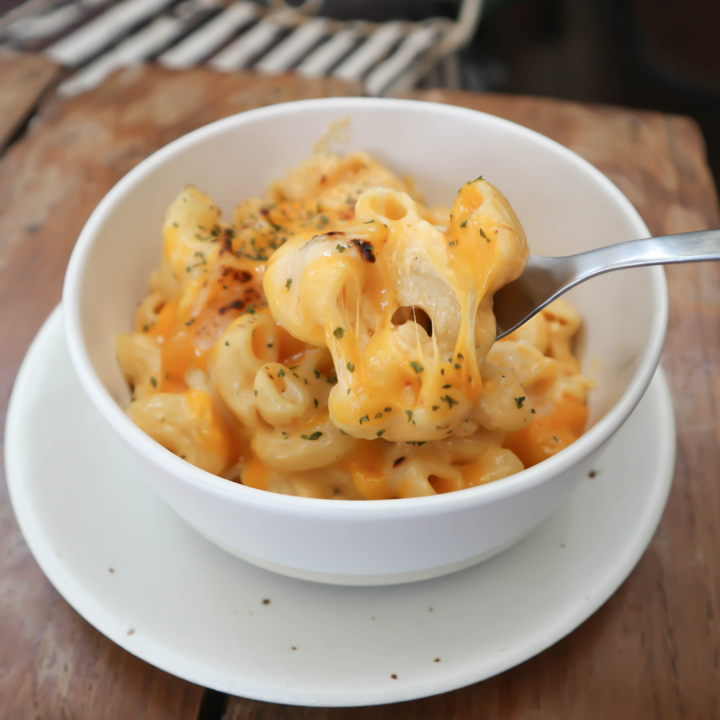 Three-Cheese Macaroni
Recipe by The Food Network Kitchen
Servings
1 Three-Cheese Macaroni
This salad comes loaded with a refreshing mix of lettuce greens, ham, turkey breast, cheese and other fabulous toppings! This yummy salad is a delicious, healthy, and filling meal option that students, teachers and parents will love!
Ingredients
1 large egg

1 12 -ounce can evaporated whole milk

Pinch of cayenne pepper

Pinch of freshly grated nutmeg

Kosher salt and freshly ground black pepper

1/3 cups grated muenster cheese (4 ounces), plus 4 deli-thin slices (1 ounce)

1/2 cup grated sharp cheddar cheese (2 ounces)

1/4 cup grated parmesan cheese (1 ounce)

1/2 head cauliflower, cut into small florets (4 cups)

4 cups medium pasta shells (9 ounces)
Directions
1. Whisk the egg, evaporated milk, cayenne, nutmeg, and salt and black pepper to taste in a bowl. Toss the grated cheeses in a separate bowl.

2. Bring a large pot of salted water to a boil. Add the cauliflower and cook until almost falling apart, about 7 minutes. Transfer with a slotted spoon to a bowl. Add the pasta to the same water and cook until al dente, about 10 minutes. Drain, reserving 1/4 cup cooking water. Preheat the broiler.

3. Combine the egg mixture and the grated cheeses in the empty pot and cook over medium-low heat, stirring constantly, until the cheeses melt and the sauce begins to thicken. Remove from the heat and add the cauliflower. Puree with an immersion blender until smooth and light (you can also use a regular blender). Stir in some of the reserved pasta water until creamy.

4. AToss the pasta in the sauce; season with salt and black pepper. Transfer to a shallow casserole dish and top with muenster slices. Broil until golden brown, about 5 minutes.