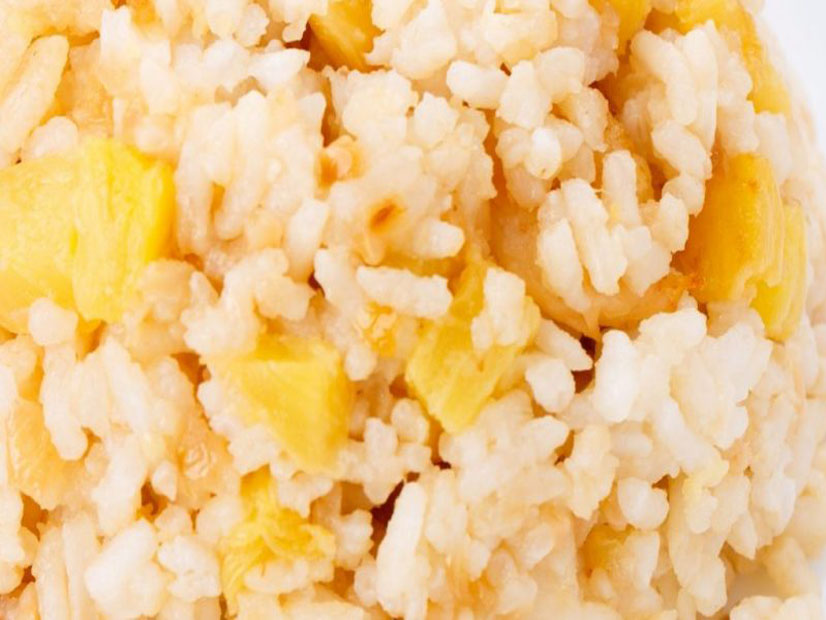 Pineapple Corn Rice
Recipe by Georgia Department Of Education
Servings
100 Pineapple Corn Rice
Total time
1 hours 20 minutes
Roasted pineapple and corn add sweet flavor to brown rice. Use this recipe as a base for a BBQ bowl, or as a delicious side dish.
Ingredients
Ingredients list includes measure by weight or volume. Choose one measure, either weight or volume, for the ingredient. Weight is listed first in bold.

Corn kernel, frozen 4¼ pounds

Pineapple tidbits, canned 4½ pounds

Vegetable spray as needed

Salt 1½ teaspoons

Pepper 1 teaspoon

Rice, brown 12½ pounds
Directions
1.Thaw the corn in the cooler overnight using a perforated pan to drain excess liquid.

2.Drain the pineapple overnight in the cooler using a perforated pan.

3.Spread the pineapple and corn evenly on a parchment lined baking sheet.

4.Spray with pan spray and season with salt and pepper.

5. Cover the pan tightly with foil and slow roast for 50 minutes at 350°F.

NOTE: This can be done the day before service. On the day of service, bring the roasted corn and pineapple back up to 135°F for 15 seconds.

6. Prepare the rice following the manufacturer`s instructions on the case.

7. Gently fold the roasted pineapple-corn mixture into the rice and hold hot for assembly.

8. This recipe was developed as base for the BBQ Rice Bowl.
Recipe Notes Crediting: