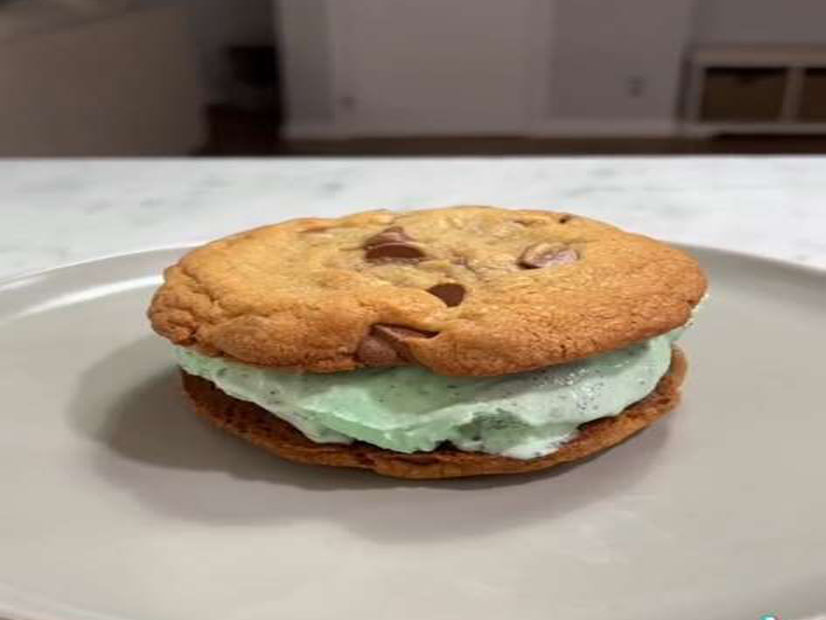 Ice Cream Sandwich
Recipe by @emmanuel.duverneau on Instagram
Servings
1 Ice Cream Sandwich
Total time
1 hour 5 minutes
We scream, you scream, we all scream for homemade ice cream sandwiches! Ice cream nestled between two tender cookies is hard to beat. Ice cream + Chocolate Chip Cookies? You've got to check this out!
Ingredients
2 1/2 Cups flour

1 Tsp baking soda

1/2 Tsp baking powder

1 Tsp salt

1/3 Cup granulated sugar

1 1/4 Cup brown sugar

2 Tsp vanilla extract

2 Eggs

1 Cup chopped chocolate

1 Cup semi-sweet chocolate chips

Instructions:

1. Preheat oven to 350°F. Add butter to a pan on medium heat. Cook for 8 to 10 minutes until it starts to brown, be careful not to let it burn. Let butter cool.

2. In a bowl, whisk together flour, baking soda and salt.

3. In a mixing bowl, add brown sugar and white sugar. Then pour in the butter and mix until combined. Add the eggs and vanilla extract and whisk until smooth.

4.Add the flour mixture to the wet mixture and fold in using a rubber spatula until dough is formed. Then add milk chocolate and dark chocolate to the cookie dough. Let the dough rest for 15 minutes.

5.Place parchment paper on a baking sheet. Scoop out dough onto the sheet, about 1/4 to 1/3 cup in size for each cookie. Bake for 15-20 minutes until lightly browned around the edges. Scoop your favorite ice cream between two cookies to make a sandwich and enjoy!