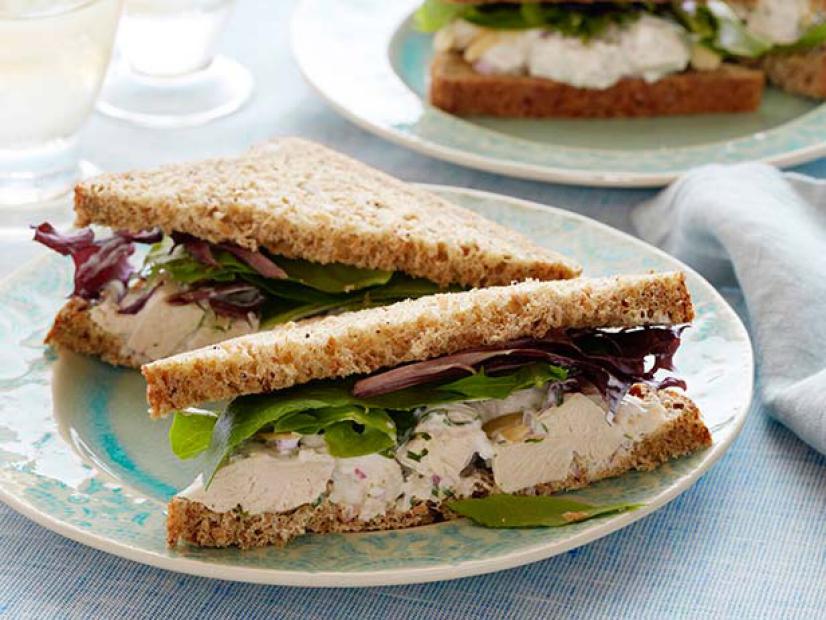 Herbal Chicken Salad Sandwiches
From: Food Network Magazine
Servings
4 Herbal Chicken Salad Sandwiches
The chicken is poached in the jasmine green tea, lending fresh, fragrant appeal to the chicken salad. Lovely served for a ladies luncheon. The sandwich can also be cut into slender pieces and served as a "tea" sandwich.
Ingredients
4 jasmine green tea bags

Kosher salt

Two 6-ounce boneless, skinless chicken breasts, cut into small bite-size cubes

1/3 cup finely diced red onion

3 tablespoons mayonnaise

3 tablespoons fat-free plain Greek yogurt

2 tablespoons thinly sliced fresh basil

1 tablespoon finely chopped fresh tarragon

1 1/2 teaspoons white balsamic vinegar

2 tablespoons sliced natural almonds

8 slices fruit-n-nut or rye bread

1 cup packed mixed baby salad greens
Directions
1. Bring 4 cups of water to a boil in a large saucepan. Turn off the heat, add the tea bags and let steep for 5 minutes.

2.Remove the tea bags and bring back to a rolling boil. Stir in 1/2 teaspoon salt and the chicken. Cover, reduce the heat to low and poach until fully cooked, about 7 minutes. Drain and transfer the chicken to a small bowl to cool to room temperature.

3.Stir together the onions, mayonnaise, yogurt, basil, tarragon, vinegar and 1/2 teaspoon salt in a large bowl. Stir in the cooled chicken, cover and refrigerate for at least 1 hour to allow the flavors to combine.

2.Toast the almonds in a dry skillet over medium heat, stirring constantly, until golden, 3 to 4 minutes.

5.Divide the chicken among 4 of the bread slices, and top with the almonds, salad greens and the remaining bread slices. Cut in half and serve.