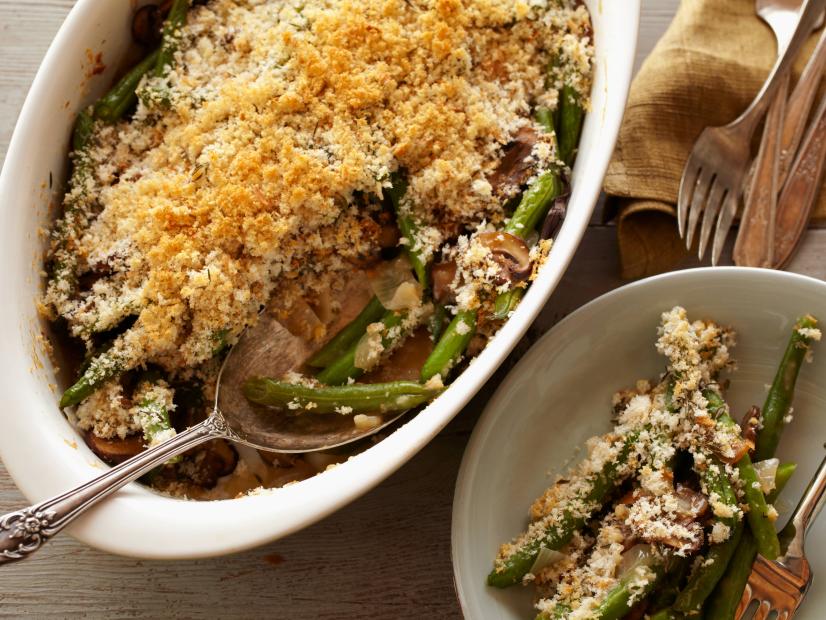 Green Bean Casserole – Slimmed
Recipe by Chef Brandon Durio at Cherry Creek in CO
Servings
1 Green Bean Casserole – Slimmed
Total time
1 hour 5 minutes
Our slimmed down version of this classic offers the creamy mushroom flavor, the sweet tang of onions, and the crunch you expect from Green Bean Casserole, with 60 percent less calories and 80 percent less fat.
Ingredients
3 to 4 medium shallots, in their skins

Kosher salt, plus 1 1/2 teaspoons

1 pound fresh green beans, stemmed, and halved crosswise

1 tablespoon extra-virgin olive oil

8 ounces cremini mushrooms, sliced (about 4 cups)

2 tablespoons unsalted butter

3 tablespoons all-purpose flour

1 1/2 cups mushroom, vegetable, or chicken broth (see Cook's Note)

3 teaspoons fresh thyme leaves

Freshly ground black pepper

Vegetable cooking spray

1 cup fresh bread crumbs
Directions
1. Preheat the oven to 400 degrees F. Put the shallots (in their skins) on a small baking dish, roast until soft, about 30 minutes. When cool enough to handle, skin and coarsely chop the shallots. Set aside.

2. Bring a medium-large saucepan of water to a boil over high heat. Add kosher salt, to taste. Add the green beans, and cook, uncovered, until crisp-tender and bright green, about 3 minutes. Drain the beans in a colander and rinse with cold water. Transfer the beans to a large bowl.

3. In the same saucepan, heat the oil over medium heat. Add the mushrooms, season with 1 teaspoon salt, cook, stirring occasionally, until browned, about 7 minutes. Add the mushrooms to the beans.

4. Melt the butter in a small saucepan over medium heat. Add the flour and cook, stirring with a wooden spoon, until golden, about 2 minutes. Slowly whisk in the broth, increase the heat to high, and bring to a boil. Add the shallots, 1 teaspoon of the thyme, and remaining 1/2 teaspoon of salt. Reduce the heat to maintain a simmer and cook until thickened, stirring occasionally, about 5 minutes. Pour the sauce over the vegetables and stir to combine evenly.

5. Spray a 2-quart baking dish with vegetable cooking spray. Transfer the vegetable mixture to the pan. Add the remaining 2 teaspoons of thyme to bread crumbs and scatter over the vegetables. Bake uncovered until the sauce bubbles and the crumbs brown, about 20 minutes.
NOTES
There has been an explosion of prepared broths on the market. We particularly like the mushroom broth in the aseptic packaging. However, for this recipe, make sure you don't use an Asian-style mushroom broth. If you can't find mushroom, a vegetable or chicken broth is a suitable substitute. When sauteing mushrooms, salt them right away–they will release moisture and you can use less oil – 1 cup fresh bread crumbs has less calories than 1 cup dried – Roasting whole shallots is an excellent way to cook them using absolutely no fat