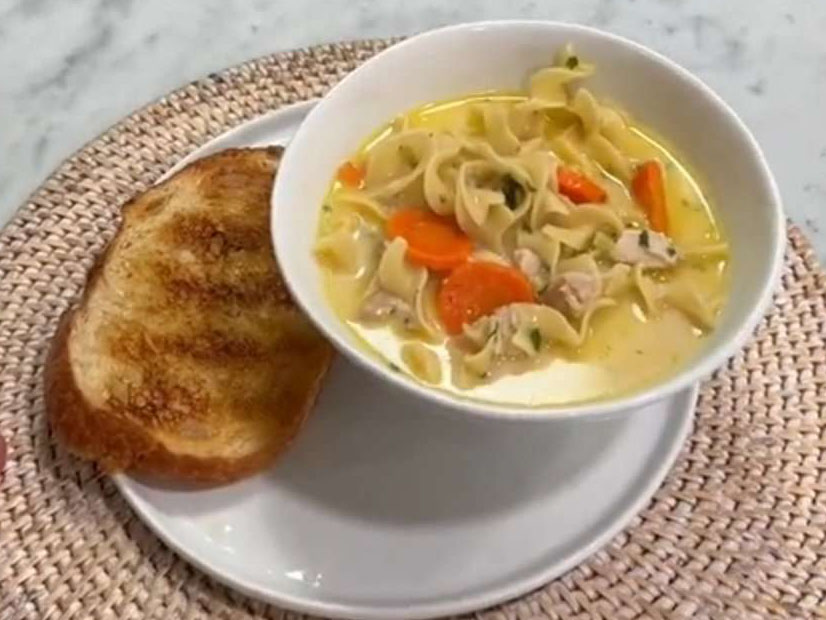 Chicken Noodle Soup
Recipe by @emmanuel.duverneau on Instagram
Servings
1 Chicken Noodle Soup
Total time
1 hour 5 minutes
During rainy days, wouldn't it be nice to be slurping a bowl of your favorite chicken noodle soup? Here's a new take on that classic that you must try!
Ingredients
3 Tbsp unsalted butter

3 stalks of chopped celery

1 large chopped carrot

1 yellow onion chopped

4 cloves of garlic, minced

2 Tbsp chopped Dill

2 Tbsp chopped parsley

1 Tbsp lemon juice

2 Cups chopped chicken (I used leftover chicken for my recipe)

5 Cups Chicken stock

2 Bay leaves

Salt and pepper to taste

6 ounces Wide egg noodles

1/2 cup Heavy cream
Instructions:
1. Melt butter in a large stockpot or Dutch oven over medium heat. Add onion, carrots and celery.

2. Cook, stirring occasionally, until tender, about 3- 4 minutes. Stir in garlic until fragrant, about 1 minute.

3. Whisk in chicken stock and bay leaves; season with salt and pepper, to taste. Stir in chicken, pasta, and heavy cream and cook until tender, about 6-7 minutes.

4. Remove from heat; stir in parsley, dill and lemon juice; season with salt and pepper, to taste and enjoy!