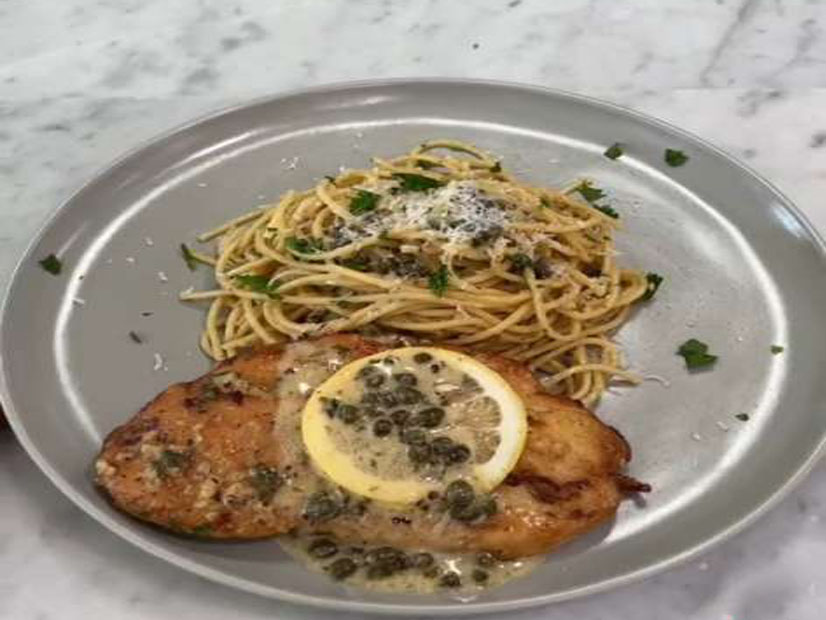 Chicken and Lemon Pasta
Recipe by @emmanuel.duverneau on Instagram
Servings
1 Chicken and Lemon Pasta
Total time
1 hour 5 minutes
Here's another exciting recipe that you can try if you are tired of your old school pasta!
Ingredients
1 Lb spaghetti

2 Chicken breasts

3 Tbsp olive oil

2 Tbsp butter

Flour Mixture

2 Tsp salt

1 Tsp pepper

2 Tsp onion powder

2 Tsp Garlic powder

4 Tbsp Shredded parmesan

2/3 Cup flour

Sauce

2.5 Oz capers, drained

2/3 Cup chicken stock

2 Tbsp butter

2 Small shallots

7 Garlic cloves

1/2 Tsp dried basil

1/2 Tsp Italian seasoning

Salt and pepper to taste

1/2 Cup heavy cream

3 Tbsp lemon juice

Lemon zest
Instructions:
1. Slice chicken in half and flatten with a rolling pin until it has an even thickness throughout. In a baking dish, Add flour, garlic powder, onion powder, salt, pepper, and Parmesan cheese and mix. Fully coat chicken with flour mixture.

2. In a pan on medium high heat, add olive oil and butter. Add chicken and cook chicken until internal temperature reaches 165° (about 5-6 minutes on each side). Remove chicken from pan and set aside

3. Cook pasta according to package directions. Reserve 1/4 cup pasta water to help bind the pasta with the sauce, if needed (do this only if you want more sauce for your pasta). Next, add garlic and shallots.

4. Cook until fragrant (about 1 minute). Add chicken broth and let reduce for about 2 minutes. Turn down heat and add heavy cream, butter, capers, lemon juice, lemon zest, dried basil, Italian seasoning, and salt and pepper to taste.

5. Add the chicken back into the pan and coat with the sauce. Remove the chicken again. Add the pasta to the remaining sauce.

6. Then add parsley and mix until pasta is fully coated.

7. Plate your pasta and chicken. Top with lemon slices and extra sauce and enjoy!