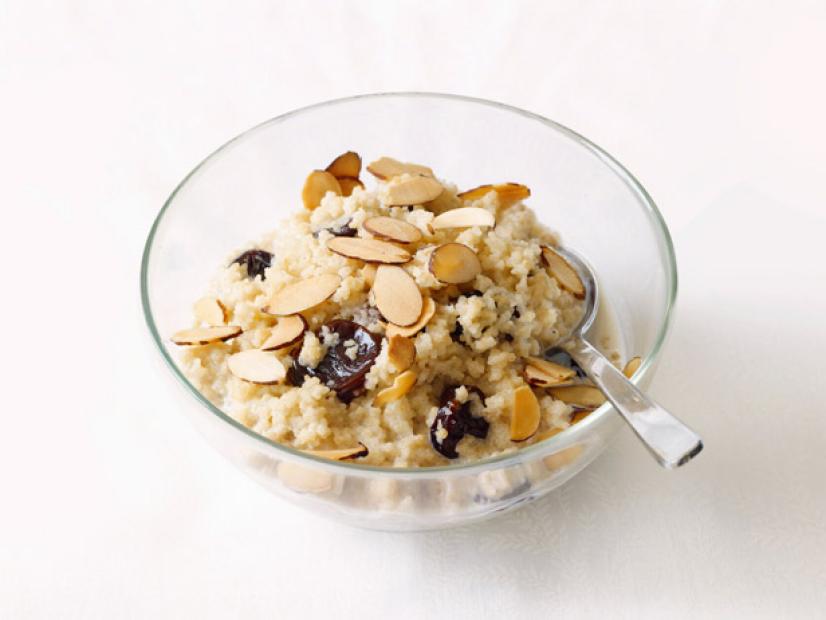 Cherry Couscous Pudding
From: Food Network Magazine
Servings
1 Cherry Couscous Pudding
Total time
1 hour 15 minutes
Frozen edamame are a delicious and convenient way to get more protein into your diet. For this recipe, garlic and red pepper flakes are quickly toasted in olive oil then tossed with the cooked edamame for a spicy, healthful kick.
Ingredients
1/2 cup milk

3 tablespoons sugar

1/4 cup dried cherries

1 vanilla bean, pulp scraped

1 1/2 cups steamed couscous

1 (8-ounce) container vanilla flavored yogurt

1/4 teaspoon ground cinnamon
Directions
1. Heat milk, sugar and cherries in medium saucepan over medium heat. Bring to simmer, remove from heat, cover and let steep for 10 minutes. Add pulp from vanilla bean to milk and whisk to combine. Pour mixture over couscous in bowl and add yogurt. Stir to combine. Divide evenly among 4 custard cups, sprinkle with cinnamon and refrigerate for 1 hour.