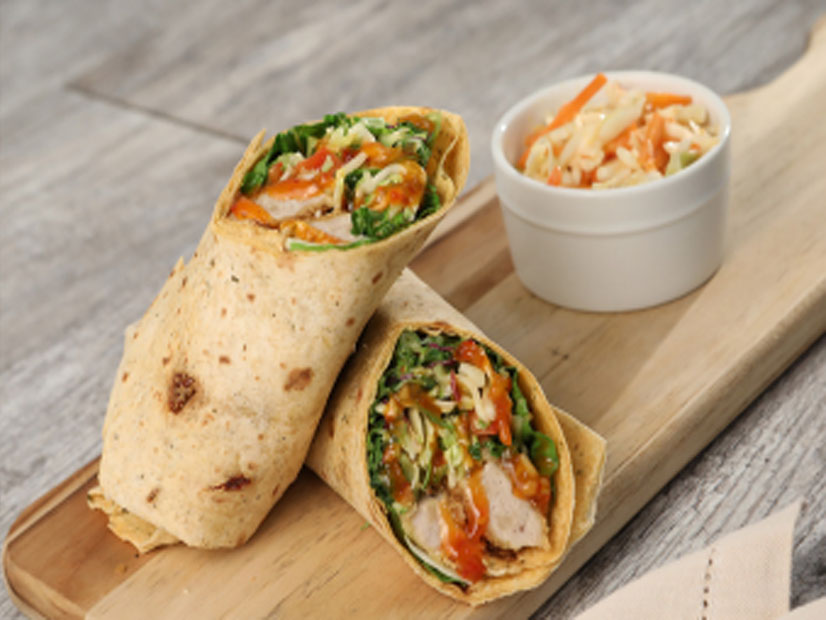 Asian Pork Wrap with slaw
Servings
23 Asian Pork Wrap with slaw
Wrap up pork and savory slaw for a quick and easy weeknight meal. Enjoy sandwich-style or use a knife and fork for neater eating.
Ingredients
Ingredients list includes measure by weight or volume. Choose one measure, either weight or volume, for the ingredient. Weight is listed first in bold.

5 lbs Breaded Pork Chop Patties (CP5694)

16 oz Sweet Chili Sauce or any J.T.M. Asian Sauce (73480)

23 each 10in. WGR Tortillas

23 oz Romaine Lettuce

16 oz Ranch Dressing

24 oz Cole Slaw Mix

12 oz Shredded Carrots
Directions
Pre-Preparation:

1. Pre-heat oven to 375°F.

2. Lay frozen JTM breaded pork patties on a sheet pan in a single layer. Do not stack or overlap the patties

3. Heat patties for 13-15 minutes or until an internal temperature of 165°F(HACCP Critical Control Point) or higher and hold hot (140°F or
higher) until ready for service.

4. Prepare Asian slaw by combining Cole slaw mix with 8 oz. Asian Sauce and 8 oz. ranch dressing. Blend the remaining ranch dressing
and sweet chili sauce and reserve until ready to assemble wraps.

To assemble recipe:

1.Cut each JTM breaded pork patty into 4 strips.

2. Place 1.0 oz of shredded romaine lettuce in the center of the WGR tortilla.

3. Place breaded pork strips over shredded romaine lettuce.

4. Top pork strips with a garnish of 1.5 oz of Asian cole slaw

5. Drizzle 1 Tbsp of asian ranch dressing over top of all ingredients( or serve on the side), fold tortilla and roll tight.

6. Cut on the bias and serve immediately.
Nutritional Contributions:
1 wrap sandwich provides: 2 oz. M/MA, 2.0 oz. WGR equivalent, 1/4 cup dark green vegetable, 1/4 cup R/O vegetable, 1/8 cup other vegetable.
NUTRITIONAL INFORMATION